Local Moving Services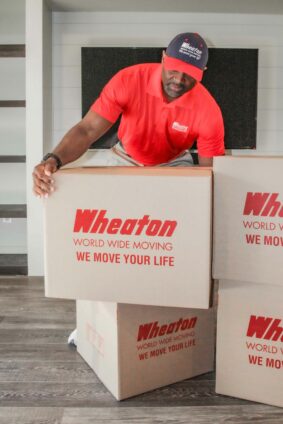 There are a lot of local moving and storage companies out there, but none of them offer the same attentiveness and care as Wheaton. We live in your neighborhood and know how to arrange the best local moving service for your move. We understand the complexity of moving, even when you're just moving down the street or to the next town over.
We've seen it over and over: it's easy to feel stressed and frazzled during the relocation process. You need local movers you can trust.  With Wheaton handling the logistics, you know you're getting the best local moving company and you can focus on getting your home ready. With Wheaton, you never have to handle your local move alone.
Your Local Moving Partner
Although Wheaton itself doesn't service local moves, our agents have nearly 80 years of experience moving local customers. We partner with local packing and moving companies and pass our experience on to you. So, you can rest assured that your belongings will arrive at your new location quickly and safely when you choose a local agent through Wheaton's interstate network.
Wheaton Moving & Storage Provides Local Moving Help & Relocation Services
At Wheaton, we strive for excellence in everything we do. Our local agents follow a high standard of performance to provide you with the right local moving services to fit your needs. That means, with Wheaton's network, you can take advantage of services that make the transition easy!
Moving services our local moving agents offer include:
What Makes Wheaton Moving the Best of the Best in Local Moving Company in Indianapolis?
We'll never leave you in the dark. You'll know what to expect from the beginning to the end of your move. And you benefit from our extensive customer service experience.
Our track record is impeccable; we've provided reliable and exceptional moving services to families across the country since 1945. With that experience, we've learned exactly what it takes to not only plan, but execute, a successful move—we've perfected the moving process!
Get in Touch with Wheaton Today to Start your Local Packing and Moving Services!
Choose Wheaton to provide you and your family with a hassle-free, local relocation experience. To get started, call us at 317-842-8111. We're always happy to answer any questions, concerns or comments.