Corporate Moves With Wheaton World Wide
At Wheaton, we understand that every relocation, whether it's residential, military or corporate, has its own distinct set of demands. Our team of experts is well-versed in these nuances and can cater to your specific needs to make your move a seamless and stress-free experience.
With more than 75 years of experience in corporate moves, you can rely on us to help you transition your business with minimal downtime. Our corporate moving services are designed to ensure your operations resume as soon as possible. To learn more about how we can assist you in relocating your business, explore our corporate moving services below or contact us today to start the process.
Corporate Moving Companies: Here's What to Look For
The corporate moving company you choose should have years of experience in performing corporate relocation services. A company that lacks knowledge of the many factors, details and needs of a corporate move could result in a move that feels chaotic or stressful.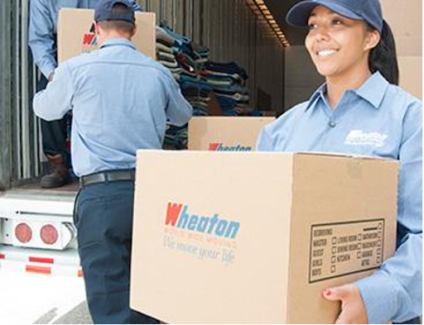 When searching for a business moving company, there are a few things to keep in mind:
Good reviews are important. Before hiring a moving company, it's a good idea to do your research. Of course, you want to avoid companies with a ton of bad reviews, but you should also be cautious of those with too many glowing reviews, too. This could indicate that the reviews aren't genuine or that the company paid for them. Google business listings are helpful because the reviews are connected to real people and profiles.
A successful track record is crucial. Wheaton has more than 75 years of experience in corporate moves. With our knowledge and expertise, you can rest assured we know all the ins and outs of moving a business.
A moving license is a must-have. It's essential to use a moving company that has a license. Anyone can buy a truck and claim to be a moving company, but a trustworthy and reputable company will have a license.
Reasonable rates are important. A reputable moving company like Wheaton will provide transparent rates or an estimate for your move. While we may not be able to give you an exact amount right away, our transparency can help you avoid any surprises on moving day.
---
Relocating Your Employees:
Corporate Moving Services for HR Professionals
We work closely with HR professionals across a variety of industries to provide relocation services for a smooth, hassle-free moving experience. From packing to delivery, our move managers will ensure your relocation is a successful one. Learn more about how we work with HR professionals below or contact Wheaton today.
Corporate Relocation Management Services
With a vast network of nearly 400 high-quality interstate agent service providers, we are equipped to assist in relocating your employees to virtually any location within the United States. Our team will work with you and your employee to ensure a successful relocation, regardless of whether the employee is moving across the country or down the coast.
The Benefits of Choosing Wheaton When Moving an Employee
We're more than just a corporate mover — we're a comprehensive planning partner. This means we're with your employee every step of the way. As a corporate customer, you benefit from our highly competitive pricing and exceptional performance guarantees.
What's more, we're one of the only corporate moving companies that's employee-owned. This unique ownership structure means every Wheaton employee is personally invested in ensuring your employee's move is a success.
Corporate Moving Partnerships
Wheaton has developed robust partnerships with a variety of third-party entities, including relocation management companies, independent move managers and brokerage firms. These relationships reflect Wheaton's commitment to providing comprehensive moving solutions and ensuring the highest level of customer satisfaction.
---
Corporate Moving Services for Employees: Are You Relocating for Work?
A work-related relocation is usually a time of celebration—maybe you're moving because you got a great new job, or maybe you've just received a promotion. Like any move, though, it also comes with a fair share of challenges. That's why we're happy to help. We hold ourselves to the highest quality standards.
Relocation Benefits
It's worth checking whether your company has an agreement with Wheaton that could offer you exclusive relocation benefits. If such a deal exists, we'll make sure to activate it promptly to help you enjoy the perks. If your employer doesn't have a partnership with Wheaton yet, please inform us, and we'll reach out to them to highlight the benefits of collaborating with our team.
We're Your Full-Service Moving Partner
Wheaton takes pride in providing exceptional employee relocation services across the entire United States, leveraging our extensive experience to ensure every detail is taken care of.
From full packing services to handling delicate and specialty items, our team will handle the nitty-gritty details, allowing you to focus on the bigger picture. We also offer convenient storage services and comprehensive protection plans to provide an extra layer of security for your valuable belongings during the move.
---
Working With a Moving Company as You Relocate for Work
Trust our skilled team of coordinators and managers to provide a seamless moving experience. From our corporate office, our move managers will oversee all aspects of your move from beginning to end and act as your dedicated liaison and advocate along every step of the process.
In addition to your move manager, you'll also partner with a local Wheaton agent who will assist you in getting the process underway. Your local agent can provide more detailed information on any questions you may have about the moving process.
---
Get Started With Wheaton's Corporate Moving Services
There are a lot of corporate relocation companies out there… but none that are as passionate and knowledgeable as Wheaton! Wheaton simplifies the corporate moving process to make the complex details of moving your company more manageable for everyone.
The experts at Wheaton can take the load off your shoulders by executing a hassle- and stress-free corporate relocation to give you peace of mind. If you're ready to get started with Wheaton's corporate moving services, contact us today or request a free moving quote.